In TODAY's world it is easy to make a blog but the thing that is difficult is to make it successful. It is not easy to get traffic due to the high competition level. Everyone is competing for readers. Niches are not limited but the number of blogs on each niche are unlimited.
The art of getting people on your blog comes with time. You can't learn it by just reading a book or an article. It is a matter of practice. But if you read an article or a blog on the topic of "Ways to increase Blog Traffic" or something like that, the time period required for learning the art become short.
1. Target the Audience that likes to share
You can not manually share all your content with the people rather you require an external source. It is best to make your audience your source. There are some topics that are read by the people who share them while the other topics are just read and are not shared excessively.

You need to know about those topics and select a niche according to that. For example a video about an interesting incident is more likely to be shared than some content written on the topic of Cancerous Cells. But it doesn't mean you have to share a video to get audience.

If your content is interesting to the people, they will share it. For example if you write on a topic like "Interesting Facts about Google", it will also be shared by people.
There is a type of audience that shares rarely, then there is an audience that shares the information excessively, these are the people who just like to read and then they share it on their social networks.

But there is another type of audience and that is your competitors. Bloggers are very active audience and they share the content much more than any one else. This is because they also need the information on their blogs.



It doesn't mean if you have targeted the audience who don't share, you are on loss. It only means that you will earn less profit. You can earn money from this type of audience as well but it will not give you as much success in the blogging world as the other two types of audience.
2. Be Active and build a Relationship with your Audience
On Madison Avenue people spend billions of cash to know about the customers. It becomes easy to target people if you know where they can be found. The research is done to target the people who are your potential customers.
For example if you are selling and razor, you will get profit by advertising it in a men's magazine rather than female magazines. Similar is the case with cosmetics. You have to target the people who are willing to visit your blog.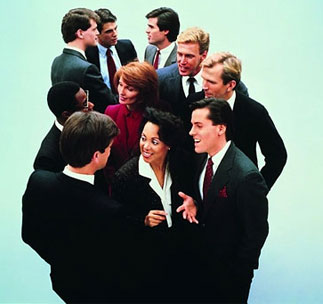 In today's world it is not difficult to search for the places where your audience can be found. There are many websites and blog available for every niche. Moreover, you can also find them on social media.
Even if you don't have much knowledge of all that, you can get to these places by just searching on Google. Google will easily make your way to your audience. You can get some help from tools like
this
.
First of all figure out the communities where your potential readers gather. The second step is to read the conversations and try to find out what others are writing on their blogs for getting traffic and what is successful. When you like having a conversation with the people, jump into it. Tell the people about what you know and about your passion. Try to make them come to your blog but don't annoy them because no one likes to be annoyed.
3. Use Search Engine to Attract People
Use SEO techniques to increase your blog's ranking in search engines. SEO is very useful for your blog if you know how to use it. Learn SEO writing if you don't already know it. Then search for the best keywords for your blog and use them to gather people at your blog.
SEO is good for your business. The blog that comes in the top 10 in Google search have more demand in the market. Use SEO friendly platforms like WordPress, Drupal and Joomla.
Don't try to spam and don't use illegal ways. Using illegal ways will decrease your search engine ranking.
4. Use your Social Network
Your Social Network can be used as a tool while blogging. Sites like Facebook, Google+ and Twitter have millions of users. If you will share your posts on these sites they will easily be spread.

The people found on these sites are content distributes. They can help you in your work. If your content is interesting, it will be shared over and over again.
You can get help from Social Networking sites only if you use them in the right way. You have to take care of certain things while sharing. Follow the following steps to make use of your Social Network:-
You should be registered atleast on Google+, Facebook and Twitter as these are the most popular sites. You should have a personal account and a brand account on all of these sites.
After registering on these sites, fill out all the required information. Try to fill each and everything. People like to know about you and it is also a sort of guarantee hat your account is not fake. Research has shown that the profiles with more information are more successful.
Now the next step is to connect with the people you already know. These people can be with whom your working or they can also be your personal contacts. You can use the services of FollowerWonk and FindPeopleOnPlus for this purpose.
Now share the interesting content you have written. You should also share the posts of other people that you think are interesting. Also share some extra information that can easily be spread.
If you continue sharing your posts on your social network your fans will grow in number and you will get success with the passage of time.
5. Install Google Analytics and work on your Weak Points
It is very beneficial to install
Google Analytics
as it will help you in getting traffic. It will also help you in knowing what other people think of your blog. It will give you complete statics of your blog's traffic.
You will be able to know about your blog's best time and best pages. With the help of this information you can increase the ranking of your blog.
You can get to know about the sites that send a great number of viewers at your blog. Choice the high quality sites from them and use them as your strong points.
You can get more traffic by investing more on these sites. Moreover, try to figure out your weak points as well and improve them.
You have to carefully observe the results so that you are able to increase the ranking of your site.
6. Allow Reuse of your Images
There are some people in the blogging world who can create images of their own. If these images are interesting everyone is attracted to them. If you arfe one of them you can upload your images on your blog to get traffic.
These images can be very helpful for you. For example if you allow its reuse with the link of your blog your viewers will be increased.
Now with the help of Google you can easily check if someone is resuing your images. Google's
Image Search Function
is a great tool to detect the people who use your images without the link.
7. Use Keywords after Proper Research
Use targeted keywords while writing a post. You have to target the words and phrases that are used most of the times while searching something on Google. You can easily find these keywords with the help of
Google AdWords
.
Now type a word related to your post in the space provided and press the search button. You will be given some suggestions. These are the commonly used keywords. It is hard to find a good keywords for your post but you can try it.
If you will check the exact match option you will get the searches that only have that phrase while in the broad match option you will also be getting the searches that have similar keywords. There is another type of search i.e Phrase Match, that will provide you the keywords that only have the words present in your phrase.
You may like to read
The title and headings of your posts are the best places where you can use your keywords. Try to target your keywords in these places.
8. Interlink the Posts
Put references in your posts. These references can be of your own posts or of other people's posts. People like to go from one post to the other with references. It becomes difficult for them if you don;t reference your posts.
Referencing the posts of other blogs is very important. If you will reference their posts they will reference your posts. With the help of
Google Alerts
they will come to know that you are using there posts as reference and then they will also help you.
9. Join Social Sharing Communities
Social Networking sites are important for your business you should share your posts on them. Similarly, Social Community Sites are also very power full in providing you viewers. Participate in these sites to get traffic.
These sites provide a value sharing environment to communicate with people. You can get value by providing it to other people. Don't try to spam other wise you will not get any advantage from these sites.
10. Guest Blogging
It maybe very difficult for you in the start to conscience someone to allow you to post on their blog. It requires trust. No one will allow you if you are not much popular. But there is a way for that. You can take the favor of the people whom you know.

Ask such people to post at your blog and also make a post at their blog. In this way both of you will be getting advantage.
By Guest Blogging you will get new audience. You will be posting for the people who don't already know you and if they will find your post interesting they will automatically click your backlink and read your other posts. Thus, your audience will be multiplied.
You should consider the following points before posting as a guest:
The blog on which you are going to post should be relevant to your blog. You won't get any advantage if the people are not interested in your topic.
If someone doesn't allow you to post at their blog don't be sad as it is just a matter of time. When your blog will grow you will automatically have a good relationship with other bloggers.
You posts should be very interesting so that the people are easily attracted to your blog.
This
tool
might help you.
11. Improve your Site's Design
Improve the design of your pages. The design should be attractive so that the readers can spend more time t your blog. Default designs are not that much attractive and thus they don't catch the attention of the reader.
You should hire a good designer to design your blog in a good way. You can get some help from the following:
12. Interact with People on other Blogs
You can get make your site more visible by commenting on the posts of other bloggers. Not all the comments are according to the likeness of the bloggers so they may delete them. You should add value in your comments so that the other bloggers like them. Don't spam them!
First of all search a good site which can help you in making your site visible to more people. Then comment on its posts.
You may like to read
Use a good name while commenting. It can be your own name but it should not be obvious that you are commenting just for the sake of visibility of your site.
13. Get Involved in Q/A sites
You should get involved in the Q/A sites. These sites can also help you in getting traffic. Don't answer every question rather you should think before answering.

The Question should have the following qualities which you are going to answer:
It should be of good quality. This means that an important thing should be asked in it.
The question should have good audience. It should be on the top pages of the search engine.
You should be able to answer it properly.
Now that you know the answer and you have already written a post on that topic you can give link to that post in your answer.
Most of the links you provide on shuch sites are "nofollow". This means that you wont be getting any advantage in term of SEO so don't spam people by providing irreverent links. Your links should be relevant.
14. Let the People Subscribe you
There maybe a visitor at your site who like your blog and wants to visit it again. But it is not sure whether he will come again or not because he may forget about it after some time. You have to make sure that he comes again and for that purpose you should turn on subscription.
Feedburner
will help you. Turn on your RSS feed with the help of it. For WordPress make use of these
plugins
.
15. Interact in Real Life Also
It is true that today we live in a digital world but still in person meetings are more important than discussions on web. The people who like you in real life are more likely to tell other people about your blog. This will go in your advantage.
Lanyrd
will help you know about the events to be taken place. It will tell you about the events of your contacts and you will also be notified about the date, time and place of the event.
16. Use of Email Connections
When you use your email as a blogger you have to send emails to many people. You maybe sending emails to the help who can help you in spreading your blog. You should add a link to your blog or your recent post in it. It will make sense and it will also help you.
You can also use your email signatures.
17. Use Surveys
Use surveys to know about the likeness of your audience. With the help of these surveys decide the topics of your future posts. It will help you in keeping the interest of the readers at your blog. Use
SurveyMonkey
or
PoolDaddy
to conduct surveys.
18. Get Involved in a Popular Conversation
Get involved in popular conversations to get attention. Add value to help the others. If you have selected a popular conversation and added a good comment in it you will automatically be getting traffic. The owner of the blog may give link to your blog if he finds your comment interesting.
19. Make a List of the Best Bloggers
Target your competitors. You may hate to compare some best blogs of your own niche but it is good for your own blog. When you will publish a list of the best bloggers of your niche, some people will not like it while the people who will be on the top will share it frequently.

People discuss such things more often then other usual posts. People will be sharing your post on different places and thus you will be getting a lot of attention.
20. Interconnect your Profiles
Connect your blog with the profiles you already have on the web e.g Facebook, Twitter, Youtube or any other site. There maybe some visitors who like to know about yourself. For those people you should connect your profiles with your blog.
You may like to read
You may upload different stuff on these profiles and thus they will also be visible to your blog visitors.
21. Have an Eye on your Competitor
Check the tools that your competitors are using to get the traffic. They will also have inks on multiple sites. With the help of competitor link research you can know about these sites. These sites may also be useful for you. Use the sites that have worked for your competitors.
22. Work Hard and be Consistent
In the Blogging world you have to be consistent to get success. Success is not a piece of cake. You have to struggle for it. Post on regular basis and one that you will be a successful blogger. Every successful person was once a beginner so keep on trying and never give up.