When you are to start a new website you have to decide which platform you will be using. There are many web hosting companies throughout the web and all of them claim to provide the best service. Some of them provide paid service while some of them provide service free of cost. You can use any of the free ones but the problem is that the quality of service they provide is not upto the mark. If you want to get a good service, you will have to consider a paid web hosting service.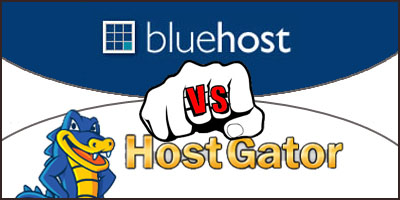 Thus, you have to make a decision that will be effecting your website throughout its life. You need to check the package different web hosting companies are providing and compare their prices.
Hostgator
and
Blue Host
are the best web hosting companies so it is very difficult to choose between one of them. Both provide the best features and the best service. They are also good at prices. This article is written to differentiate between them and suggest the better one.
Overview
Hostgator
Foundation: 2002, Brent Oxley
Hosting: More than 1.8 million domains
Helpers Employed: Over 750


Bluehost
Foundation: 1996
Hosting: Over 1,000,000 domains
On average about 20,000 customers obtain service from the company each month.
Convenience
Both of them use cPanel for providing their services. They provide you the best solutions in the easiest way. They have excellent interfaces and they have no match. Even beginners don't face any problem while using web hosting services due to their beautifully designed interfaces.
Service Plans
Hostgator
Hostgator provides three types of services:
All of them are different in the aspects of features and prices. In the Hatchling package you can host only one domain while the other plans give you rights to host unlimited domains.
Bluehost
Bluehost offers only one plan but still it covers everything in it. You can get any type of web hosting serrvice from Blurhost.
Hostgator VS. Bluehost
Performance and Uptime
There is another thing that should be considered while choosing a web hosting company i.e uptime. it is good if the company provides you with good service but it is of no use if your domain is down most of the time. Hostgator and Bluehost both are know for the best Uptime. If you are using one of them you will not face such type of problems.
Support
When you are new to something you need help from the experienced people. You should consider the support factor while choosing a web hosting company. Hostgator and Bluehost are both good in this point. They both offer support at any point of time. They provide support through phone calls, user forums, email ticket system and other such ways.
Pricing and Benefits
Pricing is the most important factor while choosing anything thing especially for beginners. usually beginners give first priority to price and then consider the other features. Both the companies have the same price for their service. Hostgator's price starts from $3.96 while Bluehost has the same price i.e. $4.95 as it has only one plan.
Conclusion
All of the above comparisons tell that both of the companies are the best in this field and choosing any of them is in your advantage. There is not much difference between them. It doesn't matter if you are going to use the service for personal website or for business purposes, both of the companies are equally good.